Phases
1.Obtaining authority permits
2.Deployment and building demolition
3.Waste disposal, finishing
4.Officially notifying the aouthorities about finishing
Demonstration: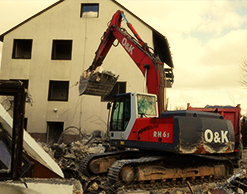 For every construction activity that requires the permission or acknowledgement procedure of the Building Control Authorities, construction log is needed (currently in electronic version: e-construction log). The quantity and type of the waste generated on the construction site have to be documented constantly. According to the reulations, all works shall be controlled by a construction site inspector. When finishing the construction activity – in case the generated waste quantity and qualitiy is in correspondence with those defined in the law – it is the duty of the site inspector to fill out the waste record sheet based on the construction log and handover to the building owner.
Building Demolition
---
The process of building demolition:
After deployment, the building structures are demolished in the following order: public utility shutdown, built-in furniture, building engineering devices, doors and windows, warm covering (carpets and rugs, laminate, vinyl, wood flooring), sanitery elements, plumbing, accesories, roof covering, chimney, waterproofing, tile structures, roofing, slab covering, hard finish elements, stairs, walls, substructures.
Necessary devices:
Most of the building structures can be demolished manually, but demolition hammer is needed for the concrete. In case of family houses, walls are pulled down with a groundworks machine. Transport vehicle is also needed depending on the quantity of the debris. If hazardous material is found (e.g.: asbestos), then special tehnology is required for the waste management.

Appropriate waste storage and disposal:
If the quantity of the waste material exceeds the treshold limit defined in the 1. Appendix of the 45/2004. (VII. 26.) BM-KvVM joint regulation, the waste shall be separated by wastetypes on the construction site. Disposal shall be certified, and shall be indicated in a record sheet. These rules are detailed in the appropriate chapter of the abovementioned regulation. Authorities pay special attention to control the propriety of waste management in order to fight illegal dumping, threfore it is worth being aware of the regulations.
What to do after the demolition is finished:

After the building demolition is finished, the building owner shall notify this fact towards the authorities. The officially approved land registry plan shall be uploaded to the online system of the National Building Record. This shall be done by a surveyor, who prepares the geodetic plan according to the actual state after demolition. It is worth to entrust a surveyor, who also undertakes the administration at the Land Register, and uploads the plan to the online system. If the waste quantity exceeds the treshold limit defined in the regulation, the construction site inspector or the building owner has to submit the waste record to the competent environmental authority.
During demolition works
The video below presents a phase work of the building demolition, clearly demonstrating how this phase is performed. Due to the appropriate background, we can proceed as quickly as possible, while minimizing dust and noise pollution affecting the environment.
Video: